The St Augustine's Priory Drama Department is lively and dynamic. It is an environment in which our girls can flourish by expressing themselves through creativity. As well as Drama in the curriculum, we aim to provide plenty of opportunities for girls interested in performing arts to create, contribute and enjoy drama to the full.
We recognize the importance of providing access to professional arts. Regular theatre visits are organised for St Augustine's girls from all years and we welcome theatre professionals into the school to perform plays, deliver workshops and Q and A sessions.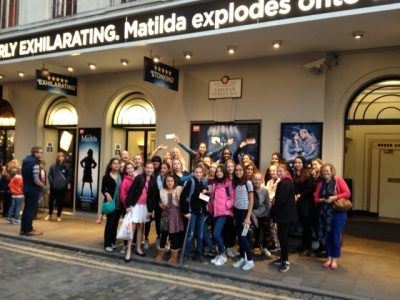 We appreciate that drama is constantly adapting to the needs of the culture it reflects and represents. To enable our girls to go on creating and producing innovative drama and theatre for the 21st century, our Senior Drama Studio is fitted with state of the art audio-visual equipment giving girls the potential to produce multi-media productions. Our outdoor stage is a perfect platform for girls to blend ancient theatre tradition and contemporary concepts.
A team of dedicated Drama Prefects assist the thriving department throughout the year, fostering a sense of responsibility and ownership. They are ambassadors for the subject and role models to younger years.
Outstanding results at GCSE 100% A*-B
Outstanding results at AS 100% A-B. 83% A
Outstanding results at A Level 100% A-B
Outstanding LAMDA uptake and results with 100% Pass rate and over 50% entrants achieving Distinction
Outstanding extra-curricular opportunities
Key Stage Drama
Preps
In the early years the emphasis is on the development of self-expression, creativity and confidence. In Prep II and Prep III Drama is delivered discretely within the English curriculum.  Public speaking and listening are encouraged through 'show and tell' sessions.  Each term girls prepare a performance to an audience; nativity plays in the Michaelmas Term, the Spring Concert in the Lent Term and Songs and Certificates in the Summer Term.
Co-curricular drama activities at this stage:
LAMDA Solo Introductory examinations, which are designed to introduce students to basic communications skills, including speaking poetry from memory and holding a conversation with an examiner.
Juniors (Key Stage 2)
The aim of Drama at this stage is to develop the girls' confidence, drama skills and teamwork. Girls in Lower II and Upper II benefit from dedicated drama lessons once a week and these year groups produce performances for an audience, which are always hugely popular. Public speaking is encouraged through individual oral presentations to class and occasionally to whole junior school audiences.
Girls also have the opportunity to speak in public to a larger audience as part of their class Mass.  This year Lower II performed in Romeo and Juliet at the Waterman's Theatre as part of the Shakespeare Schools Festival.  Upper II are looking forward to staging Alice in Wonderland as their big end of Junior School production in May.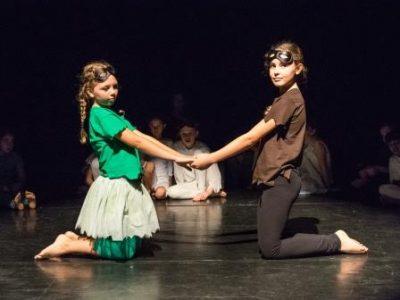 Co-curricular drama activities at this stage:
LAMDA Acting, Speaking Verse & Prose, Reading for Performance and Speaking in Public examinations.
Junior Drama Club run by the Senior Drama Prefects.
Form III to Upper IV (Key Stage 3)
The aim of Drama at this stage is to encourage girls to explore the human condition through drama.  They also scrutinize genres, dramatic conventions and challenge stereotypes through characterisation work. They devise and present scripted and improvised dramas in response to a range of stimuli and gain an understanding of how theatre can communicate in innovative, challenging ways. These explorations encourage empathy and higher order thinking skills.  They take part in scenes from plays by a range of dramatists and recognise the particular contributions that directors, designers and actors make to a production.
At the end of the Summer Term, all girls in Form III and Lower IV perform in our brilliant Shakespeare Festival on the outdoor stage. Girls in Upper IV produce an end of Key Stage production, which last year was J. M. Barrie's Peter Pan and this year will be Roald Dahl's The Witches.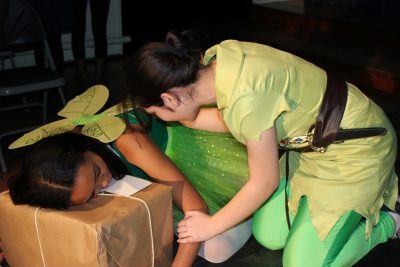 Lower V to Upper V (Key Stage 4)
Drama is a very popular choice at GCSE. The OCR Drama GCSE requires the presentation of devised and scripted work, the examination of the girls' knowledge and understanding of different dramatic techniques and forms. Theatre going is essential to this course, and at A Level, as it nurtures the girls' critical thinking as dramatists, performers and critics.
Lower VI to Upper VI (Key Stage 5)
Drama and Theatre Studies is a popular choice at A Level. The theoretical and analytical study of drama is integrated with practical work. Students study and create theatre through drawing on various historical, cultural and contemporary theatre practices. A Level Drama and Theatre Studies further develops an understanding and appreciation of drama and theatre in a social, cultural and historical context.
Co-curricular drama activities in the Senior School:
The biennial Senior School Production at Questors Theatre in Ealing.  These shows offer wonderful opportunities for girls from Form III to Upper VI to work together both on stage and backstage in a professional theatre environment.  The sense of enthusiasm and community that is developed through the production process and public performance nurtures the social inclusion we so value as a whole school.  Recent shows include The Comedy of Errors (2015) Guys and Dolls (2013) and The Ash Girl (2012).  This year's production will be Little Shop of Horrors, click here to view the promo video!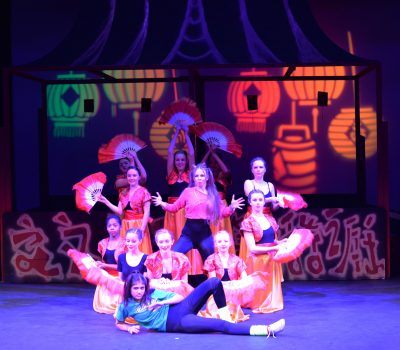 "I want to congratulate you on your production of The Comedy of Errors. My husband and I could not believe how professional the girls were. Your interpretation hit the spot!" Parent
LAMDA Examinations in Acting, Speaking Verse & Prose, Reading for Performance and Speaking in Public examinations, which gain UCAS points at Advanced Level.
LAMDA Volunteers: girls can assist the teacher in weekly LAMDA lessons of girls from younger years.  Providing excellent work experience of working with younger children, directing, and being of service to the school community.  This volunteering contributes towards the Volunteering activity of the Duke of Edinburgh Awards.
Priory Players is a theatre company run by Sixth Formers.  An exciting venture enabling girls to take the reins in managing, producing, performing and promoting their own theatre both in school and in the public arena, an excellent stepping stone to life in the workplace.  They produce the hugely popular Christmas pantomime enjoyed by all from nursery to UVI.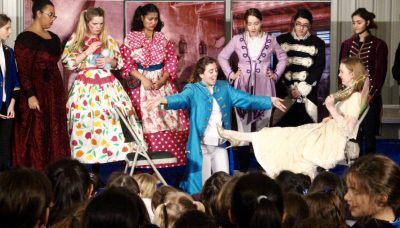 Excellent numbers continuing Drama at University and beyond
National Youth Theatre Success
Poetry by Heart Competition County Champion
Girls cast in Michael Morpurgo's 'Running Wild' at Regent's Park Open Air theatre
Professional Television and Film Audition Opportunities
Talks by visiting West End actors
In collaboration with Mona Arshi and Fat Rascal Productions, St Augustine's girls produced a professional film of 'The Minister of Light' by Forward Prize-winning poet Mona Arshi for the National Poetry Day website.
St Augustine's Priory Extra programme provides weekend and holiday opportunities for both our girls and children of the local community to take part in activities in the performing arts, with LAMDA Solo Saturdays and Yourstage drama classes.  Please see the Co-curricular pages for more information.